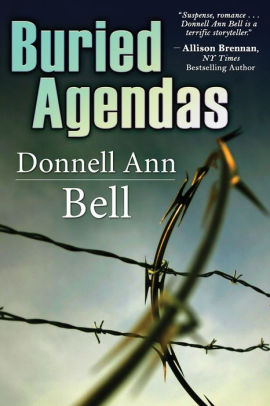 As a traditionally published author, my publisher chooses when my books go on sale. As such, when they do, I'm excited for the opportunity. I just learned that my fourth romantic suspense, Buried Agendas goes on sale on all digital outlets May 1st through the 15 for  $.99! A substantial discount!
What's the book about?
Before I give you the blurb, perhaps I should tell you the story behind the story. I'm married to a chemical engineer and I would listen to his trials and tribulations in his everyday business dealings, how he had to dot every I and cross every T to conform to company policy and EPA regulations (and rightfully so). There's nothing more intriguing to a writer than addressing a problem, and one day it came to me.  What would happen if a chemical was created that never should have been? Worse, what if said chemical had been banned by the EPA?
I learned from a very generous Environmental Protection Agency Region V Director that that very scenario does happen, and she sent me volumes of documentation to prove it. (talk about providing me with research!)
As an author, my job is not to preach to you, but to tell my characters' story. So, voila! I had my idea and an EXPERT at my disposal. Until I passed on my idea to my husband and he groaned. "I work around chemicals all day. The last thing I want to do is come home and talk about chemicals with my wife."
A roadblock, ugh. Every author faces them. So, what did I do? I went around him and contacted some of his friends. Some very generous people, including chemists, plant managers, an underground tank expert. Then I contacted someone else, an investigative reporter—the works! And Buried Agendas came to life.
What's it about? Read on:
Diana Reid is a reporter skilled at uncovering secrets while keeping her own confidences buried. One secret includes her promise to leave her fiancé and hometown of Diamond, Texas forever. That pledge vanishes when a source says people will die and implicates Diamond's largest employer, Jordan Industries, as the culprit. Together, Diana Reid and Brad Jordan must work together to uncover a scheme that must never stay underground.